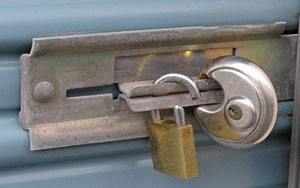 Our units will accommodate most styles of locks, except for a few with very long shackles. However, we do recommend a quality lock. We do our best to keep people out of our lot with fences, cameras, electronic gates and more. But if someone were to break into the lot, you want to make sure to keep them out of your unit. The best way to do that is a good lock.
We recommend the "puck" style locks because of the difficulty in removing them. I've done it, but it took several minutes with a good sized angle grinder. No one will waste their time trying to cut through that! By contrast, I've seen video footage of a guy cutting through one cheap lock with basic wire cutters. So get a good one; perhaps like the one pictured here. You can provide your own or we sell them for $20.00.
As an aside, we did have someone try to bypass the lock by attempting to kick the door in a few years back -- other than wrecking the door (and likely cutting themselves), they didn't get very far and still didn't get into the unit. A good lock is a good investment. And it's yours to keep when you leave.